CENTRAL LIBRARY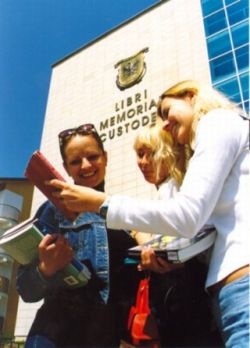 The Andrzej Bartnicki Central Library
of Pultusk Academy of Humanities

36C, Mickiewicza St., 06-100 Pułtusk
tel. +48 (23) 692 97 32
fax: (23) 692 43 84
biblioteka@ah.edu.pl

Reading-Room
Monday – Friday 8.00 - 18.00
Saturday 8.00 – 20.00
Sunday 9.00-16.00


Lending Library
Monday – Saturday 8.00 - 17.00
Sunday 9.00-16.00


The Academy of Humanities Central Library was founded in 1995. Its contemporary building – which has all the essential amenities expected of a modern library, comprises a total of 2,000 square meters of floor space, opened its doors in the academic year 2001-2002.
In celebration of the 10th anniversary of the Academy, its Central Library was named after Andrzej Bartnicki, the first Rector of Pultusk Academy of Humanities.
The library collections number 135 thousand volumes altogether, in print or on CDs. They cover 20th century books and periodicals, as well as publications issued prior to 1900.
The Library has received donations both from institutions, including the National Library, the Library of the University of Warsaw, the Sejm Library, the Lanckoroński Foundation, and the University of Cologne, and from individual persons including Faculty members of the Academy. Subscriptions account for the 134 Polish and the 20 foreign titles of periodicals currently available to the readers.
Over time, the development of the Academy has caused its Faculties to open their own reference libraries, for on-site use.
The size of its collections explains why the AH Central Library is counted among the top ones from the Polish non-public sector of higher education. Its Main Reading Room, the Faculty Reading Room, and the Media Room provide seating for 124 readers altogether, as well as 27 computer workstations enabling access to other libraries' collections, and to a variety of news services and databases.
The Library uses state-of-the-art solutions to provide quality services to its members. Books are ready for collection soon after they are requested, and it is possible to submit a book request electronically.

The Library collections and finding aids available in its reading rooms include:
reference library; and

databases on CD-ROMs (encyclopaedias, national bibliographies, databases representative for various fields of knowledge and disciplines); and

on-line full text databases, e.g. Oxford Journals, Czytelnia Czasopism Prawniczych (Legal Periodicals Reading Room), Prawo Oświatowe (Educational Law); and

library catalogues.

The Library building has been designed for easy access for disabled persons, with all the respective facilities.